Chaplain's Corner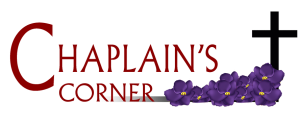 Word of Inspiration and Encouragement from our

 National Chaplain ~

Eddie D. Sumbler
Current Messages:
---

Special Prayer Request: Trooper Donna Madison
Troopers and Those knowing the Power of Prayer, Please let us join our Hearts and Minds together by Faith in Prayer for Trooper Donna Madison as she recovers from Surgery of a Tumor on her Pituitary Gland. 
*********************************************
Special Prayer Request: Chaplain Eddie Sumbler & Family
Troopers, Please let us join our Hearts and Minds together by Faith in Prayer for Chaplain Eddie Sumbler and his Family, especially his Sister at the sudden death of her Husband.
**********************************************
All Chapter Presidents and Members Please feel free to Contact Me for Prayer and Consultation where appropriate on behalf of an Association Member, Friend or  Love One. Remember: It Never Get too Late or Too Early to Voice a Concern for Assistance and Help on behalf of Another or Self. Be encouraged.
---
Greetings Troopers, Ladies and Gentlemen,                                                                                                                                                                                                                                                                                                                                                                                
it is an honor to once again serve as your National Chaplain,2017; for such a time as this. I have enjoyed supporting and working alongside Trooper (Chaplain) Fred Gray and look forward to our continued brotherly love, respect and above all service to God; while Serving You, the Troopers and Families of the Association. Above all, I thank God for His workmanship in me that HE has brought this opportunity to Serve Him through my service to each of You. A very,very special thanks to National President Andre' Q. Williams for his trust in God and obedience to God that I find myself in this Office. Again, I say thank you President Williams for the Appointment and Congratulations on your Win both to You and those of your Staff.
I look forward to working in the future as I have over the past 25 years. I joined the Association in 1992 while stationed at Fort Campbell Kentucky.  At the time, I was working with CSM (ret) Sidney Brown, who was then serving as the Civilian Chairperson of Fort Campbell Buffalo Soldier Local Steering Committee to raise Money from Local surrounding Civilian Businesses and The Military Community for the Construction of the envisioned Buffalo Soldier Monument at Leavenworth, Kansas, by General Colon Powell, Head of the Joint Chief of Staff.                                                                                                                                                                                                                                                                                                                                                                                                                                                                                        
After I was deployed to Mannheim, Germany, July 1992,  It was a few years later We attended our first National Reunion, it happened to be during the National Presidency of COL Franklin J. Henderson who Appointed me as the First Official National Association Chaplain, It occurred after I had been "Called on the Carpet," by Trooper Harold Cole. It soon became an Annual Trip in July for Eunice,and Me  flying from Germany to the different Reunion Locations.                                                                                                                                                                                                                                                                                          
 I hope to bring some Fresh and New ideas and plans to extend,improve and upgrade the level of Chaplaincy Operations and Chaplaincy Services for the Association both during and after our Annual Reunions. Historically, the Chaplain has always played a significant and pivotal role in the early and even long term life of the Troopers.                                                                                                                                                                                                                                                                                                                                                                         
I like to say to each of you in closing, it never gets too late or too early to give me a Call if there is a serious problem.                                                                                                                                                                                                                                                        
Eddie D. Sumbler, CH (ret) USA
National Chaplain, 910HCAV 
---

Chaplain Eddie D.Sumbler
Email: edsum1271@gmail.com or edsum@outlook.com
Home #: (931) 920-6673  Cell #:  (931) 216-7504
"It's never too late or early to give your Chaplain a call and/or leave a Message"

Click to send a Prayer Request