National Reunion
THE 151ST ANNIVERSARY REUNION
OF THE

BUFFALO SOLDIERS
NATIONAL 9TH & 10TH (HORSE) CAVALRY ASSOCIATION
July 24 – 29, 2017
Celebrating the 25th Anniversary of the Buffalo Soldier Monument in Fort Leavenworth, KS
Host Chapter:
Buffalo Soldiers Alexander / Madison Chapter
Greater Kansas City – Leavenworth │ 9th & 10th (Horse) Calvary Association.
The 15th Reunion Host Hotel is the Double Tree by Hilton Hotel │ Overland Park, Kansas.  We look forward to your arrival and participation in reunion activities. 
Ready & Forward,

Trooper John Bruce, President
---
The Buffalo Soldier Monument, 1992 – 2017
---
Buffalo Soldier Monument.  The Buffalo Soldier Monument, located at Grant and Stimson avenues, stands as a tribute to the Buffalo Soldiers.  A 13-foot bronze monument of a Buffalo Soldier astride his horse and a smaller bust nearby was dedicated 1992 by Gen. Colin L. Powell, then-chairman of the Joint Chiefs of Staff, who was the first African-American to serve in that capacity.  Eddie Dixon was the sculptor.
 




 
---
151st  Reunion Contact Information
Reunion Information: Trooper Susie Gordon  

(816) 924-2007
To help us with our planning and organization, please return all completed forms with your check or money order not later than, June 1, 2017.  
All forms Printed and  Completed Must Be Mailed with Check Payment to: 
Buffalo Soldiers Alexander/Madison Chapter
c/o 151st Annual Reunion
P.O. Box 300384
Kansas City, MO 64130
We look forward to you joining us for the very special GRAND occasion!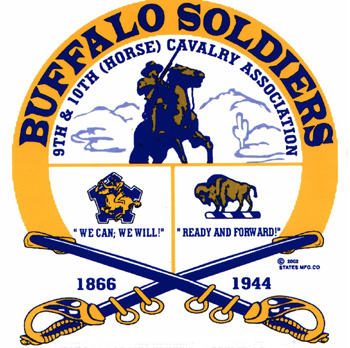 ---
© 1997-2017 National Buffalo Soldiers 9th & 10th (Horse) Cavalry Association