Home

The National  Association is an official military unit representing one of the

most famed,  Military Units in the history of the American Armed Forces.
Buffalo Soldiers, 1866 – 1944
Celebrating 150 years of A Glorious Past!
---
Buffalo Soldiers National Museum Gala Celebration
Houston, TX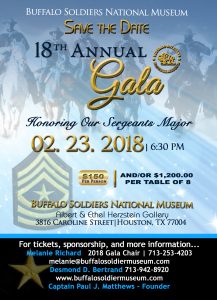 ---
---
---
---
We welcome your donations which will help us continue to perpetuate, educate and celebrate this rich history and legacy.  All donations are tax deductible as we are a registered non-profit entity.
---
 National Headquarters Perpetual Plaque
Want to honor your loved one or a Trooper gone to Fiddlers Green, consider Memorial Plaque name donation to the 9th & 10th (Horse) Cavalry Association in their name or add your Name.
To Add a Name to our Perpetual Plaque
---
© 1997-2018 National Buffalo Soldiers 9th & 10th (Horse) Cavalry Association