Commemorative Souvenir Book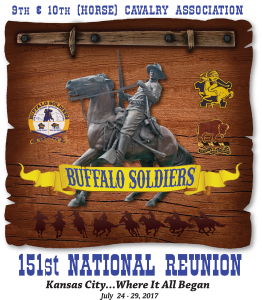 Celebrating the  25th Anniversary of the  Buffalo Soldier Monument
---
 To submit camera-ready ads, greetings and memorials:
Select the Ad you want to purchase
Association Members
Non-Association Members
Email camera-ready ad to Trooper John Bruce at raildrifter43@yahoo.com
Click Submit to remit payment for your ad.
or
Make checks or money order payable to the AMCBS 2017 Reunion Ads.
Please do not send cash.
Mail camera-ready ads with payment to:
2017 Buffalo Soldier Reunion
AMC Buffalo Soldiers
P.O. Box 300384
Kansas City, MO 64130
Attn:

 

Souvenir Committee
Mail payment to above address. In your email please specify you will your mail payment. Please note: Payments not received by due date for emailed ads will result in ad not being published.
Please contact Trooper John Bruce at

raildrifter43@yahoo.com

  if you have any questions.  Deadline: June 14, 2017